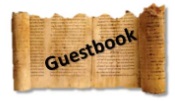 eBooks
All of Mr. Benner's books are available as e-Books for a small donation price.
---
Mr. Benner's
Video Courses
---
Help Support the AHRC


Donations by Mail:
AHRC
PO Box 284
Magnolia, Ms. 39652
---

Ancient Hebrew Wall Chart
by Jeff A. Benner
---
If you are doing some shopping on Amazon and begin your search in the box below, the AHRC, an Amazon affiliate, will receive a portion of the sale. Thank you.