OOOOOOOOOOOOOOOOOO



Sh'ma Pottery Shard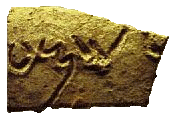 [Return to Index]



Description:
This is a potsherd with the Hebrew word "sh'ma", meaning to hear, written on it and dates to about 500 BCE.

Era:
Middle Semitic Script

Image Credit:
Jeff A. Benner

Date of Inscription:
c. 500 BCE

Location of Discovery:
Israel

Date of Discovery:
?

Current Location:
Museum of Anthropology and Archeology, University of Pennsylvania

Language:
Hebrew

Writing Surface:
Pottery

Inscription:
שמע

Transliteration:
Sh'ma

Translation:
Hear

Comments:
This word is referencing the first word of Deuteronomy 6:4 - Hear O, Israel, the Lord our God, the Lord is One.











OOOOOOOOOOOOOOOOOO