OOOOOOOOOOOOOOOOOO



Temple Tablet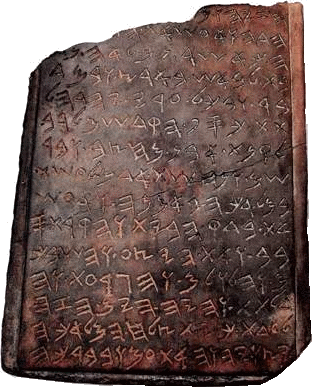 [Return to Index]



Description:
This tablet, from a private collection, is called the Jehoash Tablet and discusses repairs to King Solomon's Temple. The inscription closely parallels 2 Kings 12:1-6. It has recently been determined by Israeli archeologists that this tablet is a forgery.

Era:
Middle Semitic Script

Image Credit:
Unknown

Date of Inscription:
c. 900 BCE

Location of Discovery:
Jerusalem

Date of Discovery:
2000

Current Location:
Private Collection

Language:
Hebrew

Writing Surface:
Limestone

Transliteration:
HZYHW M…
HDH WAAhSh AT …
HKAShR NMLAH
BT LB ASh BARSh WBMD
BR ShBKL AhRY YHDH L
TT KSP HQDSh MLRB
LQNT ABN MHhTsB WBR
ShM WNHhShT ADM LAhShT
BMLAKH BAMNH WAAhSh
AT BDAh HBYT WHQRT S
BB WAT HYTsAh WHShBK
M WHLWLM WHGRAhT WH
DLTT WHYH HYM HZH
LAhDT KY TTsLHh HMLAKH
YtsW YHWH AT AhMW BBRKH

Translation:
Haziyah …
Hadah and Joash ….
just as ? …
? the heart of man with delight and in the des-
-ert as in all the cities of Judah to
give holy silver from the many
to buy stone hewn and grain and cy-
-presses and brass of Edom to make
with work in faith and Joash
damage of the Temple and the round seal
and the floor and the lattic-
-es and the stairs and the ledges and the
door and this day will be
for the assembly because you will succeed in the work
Yahweh will command his people with a blessing
(Translation by Jeff A. Benner)


Comments:
This inscription believed to be part of the Temple parellels II Kings 12:1-6, 11-17.











OOOOOOOOOOOOOOOOOO