OOOOOOOOOOOOOOOOOO



Copper Coin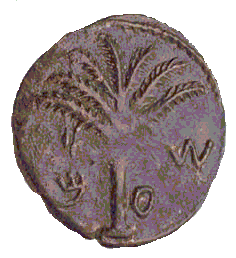 [Return to Index]



Description:
An Israeli coin dated to between 100 BCE and 130 CE contains the Hebrew word sh'ma meaning to hear and is a common "motto" in ancient Israel.

Era:
Middle Semitic Script

Image Credit:
Unknown

Date of Inscription:
100 BCE - 130 CE

Location of Discovery:
Tel Bereket, Israel (between Jerusalem and Tel Aviv)

Date of Discovery:
2004

Current Location:
?

Language:
Hebrew

Writing Surface:
Copper Coin

Transliteration:
Sh'ma

Translation:
Hear

Comments:
The first word of Deuteronomy 6:4 - "Hear, O Israel, the Lord our God, the Lord is one."











OOOOOOOOOOOOOOOOOO