OOOOOOOOOOOOOOOOOO



Nash Papyrus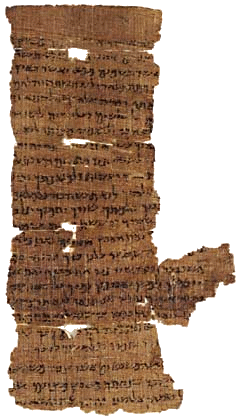 [Return to Index]



Description:
A version of the Ten Commandments combining parts of the versions from Exodus and Deuteronomy but omits the phrase "house of bondage," possibly from the fact that this fragment was found, and probably written in, Egypt.

Era:
Late Semitic Script

Image Credit:


Date of Inscription:
150-100 BCE

Location of Discovery:
Egypt

Date of Discovery:
1898

Current Location:
Cambridge University Library?

Language:
Hebrew

Writing Surface:
Papyrus

Transliteration:
TBD

Translation:
TBD

Comments:
The four papyrus fragments that make up the Nash Papyrus were acquired in Egypt by W. L. Nash and first described by Stanley A. Cook in 1903. The fragments were the oldest Hebrew fragments known at that time which contained a portion of the biblical text, specifically, the Decalogue and the Shema. Though dated by Cook to the second century C.E., subsequent reappraisals by Albright and others have pushed the date back to the second century B.C.E. The text of the Decalogue present in the papyrus is sometimes closer to the Masoretic version of Exodus, sometimes closer to Deuteronomy. Most of the agreements with Deuteronomy, however, are also reflected in the Septuagint version of Exodus. Furthermore, the papyrus shows other affinities with the Septuagint, particularly in regard to the order of the sixth through eighth commandments (adultery-murder-theft)--agreeing with several Septuagint manuscripts, Philo, and some instances in the New Testament--and in containing the introductory phrase to the Shema. It also exhibits a few unique readings. The papyrus was probably copied from a liturgical work; the practice of reading the Decalogue before the Shema is attested in both Talmuds. However, its textual affinities with the Septuagint and Philo, as well as the provenance of its discovery, bear testimony to a form of the Hebrew text current in Egypt that differed significantly from the text later preserved by the Masoretes. --James R. Adair, Jr. 1997

Also see the Jewish Quarterly Review article (PDF).











OOOOOOOOOOOOOOOOOO