Hebrew Text and Lexiocn of Genesis
By Jeff A. Benner
---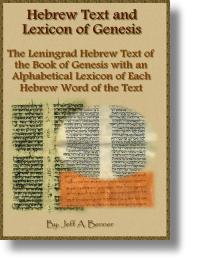 The Hebrew Text of the Book of Genesis and Alphabetical Lexicon of each Hebrew word.
ISBN:
Hardcover-9781602640597
Softcover-9781602640580
Publisher:
Virtual Bookworm
Pages:
222
This book is great for anyone learning to read Biblical Hebrew. The Hebrew text of the Book of Genesis is based on the Leningrad Hebrew. An alphabetical lexicon lists all the Hebrew words of the text as it appears in the text with the prefixes, suffixes and conjugations intact to assist the student in interpreting difficult words. The book also includes a dictionary of each Hebrew word from the book of Genesis and defines it in its original Hebraic perspective with references to The Ancient Hebrew Lexicon of the Bible and Strong's dictionary.

Once you have learned the Hebrew alphabet and have some basic understanding of Hebrew grammar you are ready to read and translate the Bible for yourself. This book contains the Hebrew text of the book of Genesis as well as a lexicon listing each and every Hebrew word as it appears in the Biblical text with its prefixes, suffixes and conjugations intact assisting the reader with interpreting difficult and unknown words. A dictionary of each Hebrew word is also included for more in-depth study of Hebrew words. By working through the book of Genesis using the tools available in this book one will soon be on their way to reading the Bible without the aid of a translator.
---
Sample Previews
---
Reviews

Total Reviews: 3

( 4.4 ) See all reviews


S. Tisdale - Great book to get started
This is what I needed to get started with understanding what English bibles are trying to say. Thanks Jeff. Something changes inside of me every time I learn important Hebrew words and I can never again be what I used to be.

Johns25 - really like this
I enjoy looking up the Hebrew meanings as they are so different than Greek sometimes and I believe that they were the orginal. This helps you a lot.