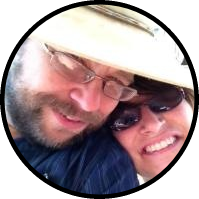 JEFF A. BENNER has authored over twenty books related to the studies of the alphabet, language and culture of the Bible and is an instructor in Biblical Hebrew and has taught thousands how to read the Bible in Hebrew for themselves.

Mr. Benner desires to assist his readers with proper Biblical interpretation, based on the original Hebraic context of the Bible, so they may gain a deeper understanding and insight into the intended meaning of the words of the Scriptures. He discovered that most Biblical and Hebrew teachings are missing a key ingredient, a cultural background to the language of the Bible. To this end, he has dedicated over 20 years of research, documenting the connections between the language of the Bible and the culture in which it was written.

Mr. Benner, along with his wife Denise and their children, lives in Mississippi in a log house they built on their wooded property. They are working to build a self-sustaining homestead.

You may contact Mr. Benner through his email address, but please, be brief and to the point and patient for a response as he receives hundreds of emails each month.


Benner@Ancient-Hebrew.org
Free Study Pack
Sign up for our mail list and get a free study pack that includes Mr. Benner's ebook, A Mechanical Translation of Genesis.
---
Translation Work
Ancient Hebrew Lexicon (Book)
All the Hebrew words of the Bible are connected to their roots and defined within their ancient cultural context and meaning.
---
Best Sellers
Benner's Commentary on the Torah (Book)
Jeff A. Benner's commentary on selected verses, names, topics expounding on the linguistics and cultural background of the Hebrew people.
The Living Words (Book)
A study of Hebrew words in the Old and New Testament from their original Hebraic perspective.
Ancient Hebrew Dictionary (Book)
This Biblical Hebrew dictionary contains the one thousand most frequent verbs and nouns found within the Hebrew Bible.
---
Selected Articles by Mr. Benner
The Culture of the Hebrew Language (Article)
Understanding the Ancient Hebrew culture is very important for proper Biblical interpretation and without it the reader interject his or her own cultural perspectives on the text.
The Way of Yahweh (Article)
In the Bible, the way to God is described as a journey, a path leading to a destination.