Ancient Hebrew Dictionary
By Jeff A. Benner
---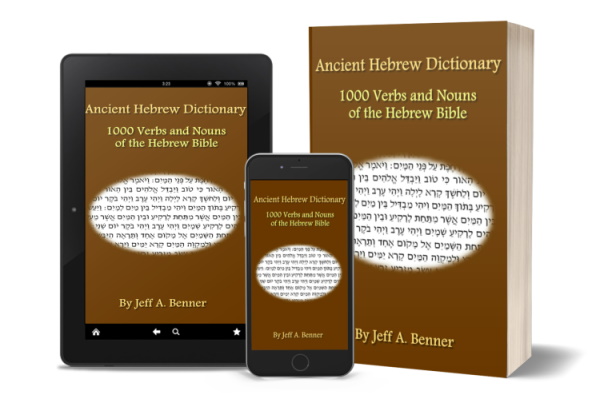 This Biblical Hebrew dictionary contains the one thousand most frequent verbs and nouns found within the Hebrew Bible. Each word is translated and defined from its original concrete Ancient Hebrew perspective, allowing for a more accurate interpretation of the text. In addition to the one thousand verbs and nouns, the appendices in the book include a complete list of Hebrew pronouns, prepositions, adverbs, conjunctions and numbers. (210 pages)
"I definitely respect Mr. Benner and have validated his research and definitions. If you want to dig deeper in the Bible, this is a excellent book to have with you."
-- M. Osborn
"Very easy to use and a must-buy for anyone starting to learn Biblical Hebrew."
-- TrevorD-W
This eBook is also available in the
Hebrew Word Studies
Study Pack.
---
Whether you know Hebrew or not, this book will provide you with a quick reference resource for learning the meaning of many Hebrew words that lie beneath the English translations, which will open new doors for you into Biblical interpretation.

The Hebrew language of the Bible must be understood from its original and Ancient Hebrew perspective. Our interpretation of a word like "holy" is an abstract idea, derived out of a Greco-Roman culture and mindset, which is usually understood as someone or something that is especially godly, pious or spiritual. However, the Hebrew word קדוש (qadosh) means, from an Ancient Hebrew perspective, unique and is defined in this dictionary as: "Someone or something that has, or has been given the quality of specialness, and has been separated from the rest for a special purpose." With this interpretation, we discover that the nation of Israel is not "holy," in the sense of godliness or piety, but is a unique and special people, separated from all others to serve God.
---
Sample Previews
---
Reviews

Total Reviews: 42

( 4.2 ) See all reviews


Octavio L. Quintero - Love it
I love this book, as a bible student is a good resource for interpreting pictographical Hebrew root of words. It helped me to change my Greco-Roman mentality to a Hebrew mentality, I highly recommend it to anyone who wants to delve into the things that the Eternal God has kept for those who fear Him.

Ed Nelson - Hebrew Dictionary
In my feeble attempt to learn some basic Hebrew and decipher a few Bible passages this book is proving invaluable.

Jbluenull - What a VERY necessary reference tool.
"We all have our concordances and lexicons..but this goes beyond. Each word in this lexicon is given it's due. Understanding that Hebrew has root words is one thing but knowing the letters, their meanings, their ancient pictures using their standard Hebrew #s in other lexicons, cultural view, ......fabulous reference .......actually, I can't say enough about this book. I wished I'd known about it and had it in my library when it was first published. Every bible believer needs this book.....why? Because reading it as translated into English and not going any farther into your relationship with your Messiah and your heavenly FATHER by getting to know THEM and THEIR HEARTS....as given in the original language. Watch Jeff Benner's videos on his website under module one in the education center...... You'll understand why I say this and I pray you respond accordingly."

H. Rosenboim - For Biblical Scholars and lovers of the Hebrew language
This is a good book and lends one to understand that Hebrew is a language of creative connections. yes, by all means, get this book.

calledoutwithwords - EXCELLENT!!!!!!!!
Excellent. Save me from flunk homework, and I use daily. It is a must have. Jeff A. Benner has an amazing insight into the Hebrew (I am a biblical hebrew student) and I use his books to do my homework.

M. Osborn - Excellent Hebrew to English dictionary
"This has been such a helpful Scripture study tool, I use it almost daily. The extended explanations have been eye opening for me and been confirmed by other reliable sources. I have used the Ancient Hebrew Dictionary to properly interpret passages of Scripture, even to the point of demystifying some of the popular mainstream or watered down translations of the Bible and seeing how it could have better been translated into English. This dictionary gives helpful perspective and point of view for all, but especially for those learning to intensely study the Bible and live by the Torah/Teachings/Instructions of Elohiym. An example of a eye-opening definition would be emunah, often translated as ""faith"" or ""belief,"" (when properly understood are okay, but are often defined in non-concrete or flighty terms) but Benner renders it as: act with firmness toward Elohiym's will. Seen this way, I think when we seek to obey the Scriptures, we are showing emunah, because we are living based on the established Words of Life. I definitely respect Mr. Benner and have validated his research and definitions. If you want to dig deeper in the Bible, this is a excellent book to have with you."

kk - Excellent resource for those learning Hebrew.
If you are teaching yourself Hebrew, Jeff Benner's books are just invaluable. This dictionary is another one of his excellent resources.