The Torah: A Mechanical Translation
By Jeff A. Benner
---
Hardcover | Softcover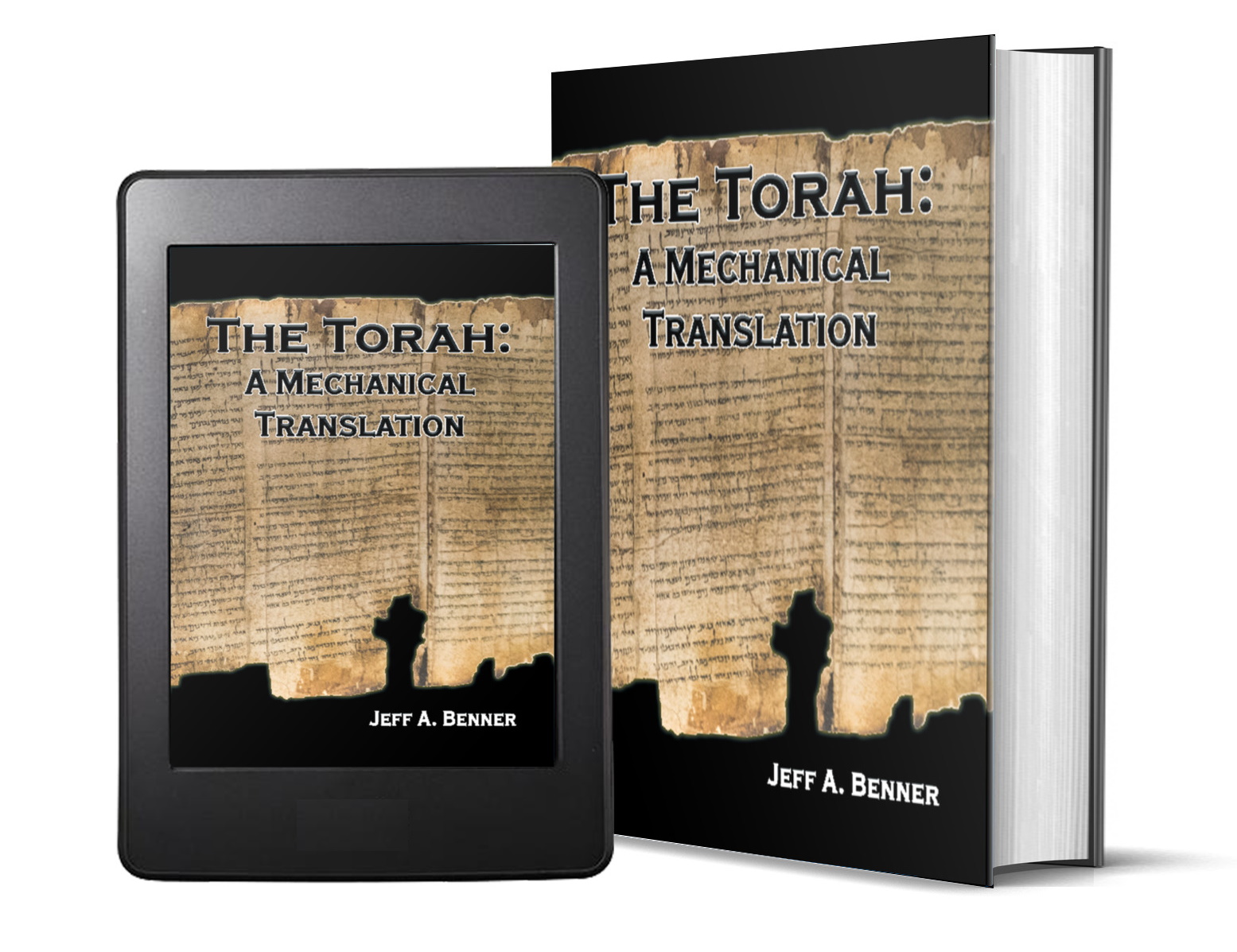 The Mechanical method of translating the Bible is a new and unique style of translating that translates each Hebrew word, prefix and suffix exactly the same way every time it occurs and in the same order as they appear in the Hebrew text. This translation will allow a reader, who has no background in Hebrew, to see the text from a Hebraic perspective, without the interjection of a translator's theological opinions and bias. (960 pages)
"What would you grab from your house if it was on fire and all of your family was out and safe, already? That was the question my husband and I asked each other. "The Torah, a Mechanical Translation from Jeff A. Benner", was both of our immediate answers."
-- Myotherapy Mom
"This is a great resource even if you do not know Hebrew... Would highly recommend this item."
-- Naomi
This eBook is also available in the
The Mechanical Translation
Study Pack.
---
This translation is accompanied with a revised translation that rearranges the words to match English syntax for easy readability. As this style of translation shows the morphology of each Hebrew word and the Hebrew sentence structure through the English language, it is a useful tool for those who are learning to read Biblical Hebrew.

This translation includes:
An introductory text explaining the background and methodology of the mechanical translation.
An introductory text describing the mechanics of the Hebrew language and the history of the Torah.
Every Hebrew word of the Torah with its mechanical translation and transliteration.
A "revised" translation for each verse that rearranges the text so that it is understandable to English readers.
Over 1,000 footnotes on the Hebrew grammar, idioms and alternate translations and meanings.
A lexicon including every Hebrew word in the Torah arranged by their roots.
A concordance to aid the reader in locating specific words within the Torah.
---
Sample Previews
---
Reviews

Naomi: Thank you Jeff Benner for this amazing mechanical translation! I cannot imagine how long this must have taken to do. (A labor of love) This is a great resource even if you do not know Hebrew! The Hebrew words and pronunciation are beside the English translation of each word of the text. There is also a revised mechanical translation beneath that can be read by anyone! (Highlighted in photo) This book also includes a lot of extras including but not limited to a concordance and dictionary in the back of the book!(See photos) Would highly recommend this item.

damhar: Please read the introduction, to really understand this book. Or else you will think he is crazy for years when you are taught to believe certain information and someone is now its coming with new revelation about what you taught was true, it hard to digest. In every dictionary and google search and Hebrew commentary Bereshith is translated in the beginning, not in the summit. Rapha is translated healer not dead. Please explain where r u getting his from? But overall excellent book to study and have in your book collection. I am still questioning certain words.

Myrtle Lim: Readable and simple to understand

Eric John Nagel: This has been a wonderful tool that I have used ever since the first edition and even perhaps the rough draft, I think I even helped edit some. Now I am joyful that I can use it online and through the entire Torah. Blessings, eric

Wesley 'Ley' Rose: My friend Mr Brenner has added a new dimension of thought, understanding, and value to Biblical Hebrew study. His careful inspection and diligent adherence to the Hebrew structure and depth of the Hebrew language have prooved an excellent transliteration / translation of what some scholars considered a dead language. It comes alive with vibrant meaning and proves to be a treasure worth looking into. Do yourself a favor, take the time to examine this fresh look at ancient Hebrew and it's Biblical view reevaluated and redefined.