Topics

Definition of Hebrew Names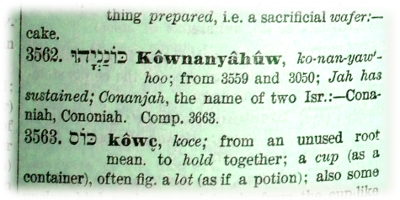 Adam
By Jeff A. Benner
We are all familiar with the name "Adam" as found in the book of Genesis, but what does it really mean? Let us begin by looking at its roots. This word/name is a child root derived from the parent דם (dam) meaning, "blood". By placing the letter א in front of the parent root, the child root אדם (adam) is formed and is related in meaning to דם (dam).

By examining a few other words derived from the child root אדם we can see a common meaning in them all. The Hebrew word אדמה (adamah) is the feminine form of אדם meaning "ground" (see Genesis 2:7). The word/name אדום (Edom) means "red". Each of these words has the common meaning of "red". Dam is the "red" blood, adamah is the "red" ground, edom is the color "red" and adam is the "red" man. There is one other connection between adam and adamah as seen in Genesis 2:7 which states that "the adam" was formed out of the adamah.

In the ancient Hebrew world, a person's name was not simply an identifier but descriptive of one's character. As Adam was formed out of the ground, his name identifies his origins.
---
Free Study Pack
Sign up for our mail list and get a free study pack that includes Mr. Benner's ebook, A Mechanical Translation of Genesis.
---
Related Pages by Jeff A. Benner