Topics

Definition of Hebrew Names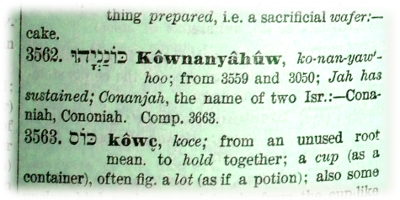 Simeon
By Jeff A. Benner
This name is derived from the Hebrew verb שמע shama (#8085) meaning "to hear."

In Deuteronomy 6:4, written above in the Modern Hebrew and Middle Semitic (paleo-Hebrew) scripts, the first word is sh'ma, the imperative form of the verb meaning "hear!" This word is kind of a motto to Israel. It has been found written on ancient pottery (left) and coins (right).

In Genesis 29:33 Leah, the wife of Jacob, says, "Because Yahweh has heard (shama) that I was hated and he gave me this one also" and she gives him the name שמעון (Shimon #8095), a Hebrew word meaning hearer."
---
Get notified of new material and get a free eBook...

---
Related Pages by Jeff A. Benner
---