Topics

Teachings of Yeshua/Jesus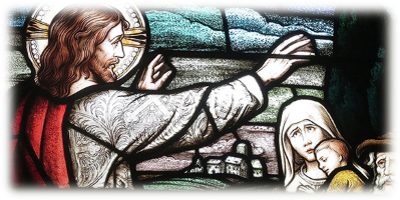 Teaching style of Yeshua/Jesus
By Jeff A. Benner
"And they were astonished at his teaching, for he taught them as one who had authority, and not as the scribes. (Mark 1:22)"

While portions of the Gospels of the New Testament are written in chronological order, this is not true for entire books of the Gospel. Because the New Testament was written by Jewish authors of the first century CE, their method of recording the life and events of Yeshua follows a more Hebraic format. In "step logic," events are recorded in a chronological order such as we would expect to see on a timeline. However, this method of logic is Greek and since the author's of the Gospels were Hebrews, they would follow an Hebraic form of logic called "block logic," which is more related to circular thought than linear. Block logic records the life and events of Yeshua according to their types. Using the book of Matthew as an example, we find most of his healings are recorded in chapters 8,9 and 12. Most of his encounters with the Pharisees and officials are found in chapters 15, 16 and 22. Many of Yeshua's teachings to his students are found in chapters 18 and 24. And finally, most of Yeshua's parables are found in chapters 13 and 25.

Yeshua was what is known as an itinerant Rabbi, meaning that he was not the Rabbi of a community, but instead traveled the land with his students and teaching in the countryside and towns. We can assume that Yeshua healed, met with the Pharisees and taught his students throughout his ministry. However, when the authors of the Gospels recorded their recollections of the events, they did not record them in linear chronological order, but in blocks according to their relativity.

Dr. Robert L. Lindsey, the founder of the Synoptic Gospel Researchers, discovered Yeshua's method of teaching his students. In his book Jesus Rabbi and Lord: The Hebrew Story of Jesus Behind Our Gospels, he proposes that as Yeshua traveled across the country side an event would occur, he would then give a teaching to his students that related to the event and would then tell them two parables to demonstrate his teaching. While the event, teaching and the two parables occurred at one time, they were recorded in various places in the Gospels, and sometimes in different Gospel accounts.

Dr. Lindsey did provide an example of this teaching style of Yeshua, However I had loaned out my copy of the book which was never returned to me, and could not recall the example he gave. So, I began my own search for examples of this unique style of Yeshua's teachings. I was able to find two examples which I am providing below.

Worry

Incident - Luke 10:38-42
Now as they went on their way, he entered a village; and a woman named Martha received him into her house. And she had a sister called Mary, who sat at the Lord's feet and listened to his teaching. But Martha was distracted with much serving; and she went to him and said, "Lord, do you not care that my sister has left me to serve alone? Tell her then to help me." But the Lord answered her, "Martha, Martha, you are anxious and troubled about many things; one thing is needful. Mary has chosen the good portion, which shall not be taken away from her."

Teaching - Matthew 6:25-34
"Therefore I tell you, do not be anxious about your life, what you shall eat or what you shall drink, nor about your body, what you shall put on. Is not life more than food, and the body more than clothing? Look at the birds of the air: they neither sow nor reap nor gather into barns, and yet your heavenly Father feeds them. Are you not of more value than they? And which of you by being anxious can add one cubit to his span of life? And why are you anxious about clothing? Consider the lilies of the field, how they grow; they neither toil nor spin; yet I tell you, even Solomon in all his glory was not arrayed like one of these. But if God so clothes the grass of the field, which today is alive and tomorrow is thrown into the oven, will he not much more clothe you, O men of little faith? Therefore do not be anxious, saying, `What shall we eat?' or `What shall we drink?' or `What shall we wear?' For the Gentiles seek all these things; and your heavenly Father knows that you need them all. But seek first his kingdom and his righteousness, and all these things shall be yours as well. "Therefore do not be anxious about tomorrow, for tomorrow will be anxious for itself. Let the day's own trouble be sufficient for the day.

Parable #1 - Luke 12:16-21
And he told them a parable, saying, "The land of a rich man brought forth plentifully; and he thought to himself, `What shall I do, for I have nowhere to store my crops?' And he said, `I will do this: I will pull down my barns, and build larger ones; and there I will store all my grain and my goods. And I will say to my soul, Soul, you have ample goods laid up for many years; take your ease, eat, drink, be merry.' But God said to him, `Fool! This night your soul is required of you; and the things you have prepared, whose will they be?' So is he who lays up treasure for himself, and is not rich toward God."

Parable #2 - Luke 16:19-31
"There was a rich man, who was clothed in purple and fine linen and who feasted sumptuously every day. And at his gate lay a poor man named Lazarus, full of sores, who desired to be fed with what fell from the rich man's table; moreover the dogs came and licked his sores. The poor man died and was carried by the angels to Abraham's bosom. The rich man also died and was buried; and in Hades, being in torment, he lifted up his eyes, and saw Abraham far off and Lazarus in his bosom. And he called out, `Father Abraham, have mercy upon me, and send Lazarus to dip the end of his finger in water and cool my tongue; for I am in anguish in this flame.' But Abraham said, `Son, remember that you in your lifetime received your good things, and Lazarus in like manner evil things; but now he is comforted here, and you are in anguish. And besides all this, between us and you a great chasm has been fixed, in order that those who would pass from here to you may not be able, and none may cross from there to us.' And he said, `Then I beg you, father, to send him to my father's house, for I have five brothers, so that he may warn them, lest they also come into this place of torment.' But Abraham said, `They have Moses and the prophets; let them hear them.' And he said, `No, father Abraham; but if some one goes to them from the dead, they will repent.' He said to him, `If they do not hear Moses and the prophets, neither will they be convinced if some one should rise from the dead.'"



The Fig Tree

Event - Matthew 21:19-20
And seeing a fig tree by the way side, he came to it, and found nothing thereon, but leaves only; and he saith unto it, Let there be no fruit from thee henceforward for ever. And immediately the fig tree withered away. And when the disciples saw it, they marvelled, saying, How did the fig tree immediately wither away?

Teaching #1 - Matthew 21:21-22
And Jesus answered and said unto them, Verily I say unto you, If ye have faith, and doubt not, ye shall not only do what is done to the fig tree, but even if ye shall say unto this mountain, Be thou taken up and cast into the sea, it shall be done. And all things, whatsoever ye shall ask in prayer, believing, ye shall receive.

Teaching #2 - Matthew 24:32-33
Now from the fig tree learn her parable: when her branch is now become tender, and putteth forth its leaves, ye know that the summer is nigh; even so ye also, when ye see all these things, know ye that he is nigh, even at the doors.

Parable #1 - Luke 21:29-36
And he spake to them a parable: Behold the fig tree, and all the trees: when they now shoot forth, ye see it and know of your own selves that the summer is now nigh. Even so ye also, when ye see these things coming to pass, know ye that the kingdom of God is nigh. Verily I say unto you, This generation shall not pass away, till all things be accomplished. Heaven and earth shall pass away: but my words shall not pass away. But take heed to yourselves, lest haply your hearts be overcharged with surfeiting, and drunkenness, and cares of this life, and that day come on you suddenly as a snare: for so shall it come upon all them that dwell on the face of all the earth. But watch ye at every season, making supplication, that ye may prevail to escape all these things that shall come to pass, and to stand before the Son of man.

Parable #2 - Luke 13:6-9
And he spake this parable; A certain man had a fig tree planted in his vineyard; and he came seeking fruit thereon, and found none. And he said unto the vinedresser, Behold, these three years I come seeking fruit on this fig tree, and find none: cut it down; why doth it also cumber the ground? And he answering saith unto him, Lord, let it alone this year also, till I shall dig about it, and dung it: and if it bear fruit thenceforth, well; but if not, thou shalt cut it down.
---
If you would like to be notified of new articles from this website...

---
Related Pages by Jeff A. Benner
His Name is One (Book)
An examination of the Hebrew words and names used for God and their interpretation from an ancient Hebrew perspective.
---