My name is Jeff A. Benner and my wife Denise and I want to thank you for visiting our website. Contained within this website are 2,000+ web pages, 1,500+ graphics, 1,000+ audio files and 100+ PDFs; all for the goal of teaching proper Biblical interpretation through the study of the Ancient Hebrew alphabet, language, culture and philosophy.
---
Introduction to Ancient Hebrew
By Jeff A. Benner
If you were given the choice of a fast food meal or one from a 5 star restaurant, which one would you chose? Both restaurants provide food, but I think most people would choose the 5 star restaurant as it provides, better food and a better atmosphere than a fast food restaurant. This same analogy can be used for the Hebrew Bible. Reading an English translation of the Bible is like the fast food restaurant; you may still get fed, but doesn't have the same impact as the Hebrew text. Even if one doesn't know Hebrew, much can be learned by understanding Hebraic concepts.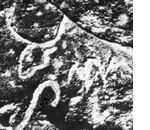 This 4,000 year old Inscription was found in the land of Israel and is composed of two letters written in the ancient pictographic Hebrew script. The letter at the top of the inscription is the aleph and is a picture of an ox head representing strength. Below that is the letter lamed and is a picture of a shepherd staff representing authority. When these pictographs are combined the word "el" is formed meaning "the strong one of authority."

The Hebrew Bible (called the Tenack by Jews and the Old Testament by Christians) was originally written in this pictographic Hebrew script (as well as a modified form usually refered to as Paleo-Hebrew) by Hebrews whose language and culture were very different from our own. Because of this, it is through the study of the ancient Hebrew alphabet, language and culture we can better understand the Biblical texts.
---
---
What's New at AHRC?
---
---
---
Free eBook!
I am offering my eBook, the Mechanical Translation of Genesis for free. Just enter your email address in the form below to join my mail list and I will email you the eBook. Thank you and I hope you enjoy the book and find it useful in your studies.
---
Comments from Pastors and Teachers
[Jeff Benner's] Revised Mechanical Translation is an awesome translation that is faithful for any biblical or entry level bible student.
-- Eric Morgado B.A., M.A., Department of biblical And Semitic Studies and Ancient languages

I've been a teacher of Hebraic thought for around 25 years. I discovered your work around 3 years ago and I wanted to let you know that it is really helpful in my work. I teach my students from restored Name Hebrew/English translation that I have compiled and edited over the years. I'm looking forward to the soon coming Mechanical Translation of the Torah. Your books are fantastic, and I cited them when I completed my dissertation. Thanks again for the time and effort that you have put into the AHRC.
-- Michael A Trinkman D.Th.

I want to personally thank you for all your research. While attending a baptist seminary my first exposure to Hebrew was a one-year required class that at best taught me the aleph-bet and some translation techniques, while at worst, presented a dry, sterile course that lacked the breadth and depth I wanted from this beautiful language. I find your website and links refreshing, enlightening, and thought-provoking. It has rekindled my love for the original text and weened me from relying on the Greek text for my new testament studies.
-- Stephan Shardy, PhD

I received my Ph.D. from Hebrew Union College--JIR, Cincinnati, June 7, 1968, in Ancient Near Eastern Languages and Literature and I find your work extremely well done. It's unfortunate no one before now has shown the interest and commitment that you have! Your work reminds us that we forget the concreteness of the Hebrew/Aramaic languages and we continue to try to project our abstract mind--set upon this powerful and down to earth language!
-- William M. Davis, PhD

Shalom! I just wanted to commend you for the work you do and for your website. I first learned Hebrew as a seminarian at Concordia Seminary (a Lutheran seminary in St. Louis), however, it was not until I became good friends with an orthodox rabbi that I truly learned Hebrew. Only then, did I begin to understand Hebraic thought vs. Western/Hellenistic thought, etc. The material you present is excellent, top notch, and yet very accessible to any interested lay person. I have promoted your work to my congregation and a few have bought some of your books.
-- The Rev. Dr. Chad Foster

I want to thank you for the tremendously insightful newsletter you send out from the Ancient Hebrew Research Center. My understanding and appreciation of the Old Testament original text continues to grow as a result of your work. You have greatly enriched my personal study and also my teaching.
--Rev. Dr. Patricia David; Vice President for Religious Studies; Georgetown Wesleyan University of the Americas

I am a PhD student at George Wythe College and their language of choice for the school is Hebrew. Your website is very useful in learning Hebrew and I am going to pass this on to my fellow students who like me have been struggling with Hebrew. Keep it up!
--Forrest Brown

Though we have never met, you have become a wonderful friend in my life... You research, writings and CD's have helped me tremendously... I am a pastor going on 23 years of ministry and have loved the Greek and Hebrew language of scripture for some time, but... about two years ago I came across your ministry and it has totally blessed me... I own most everything you have written or recorded...Thank you so much.
--Dr. John L. Mastrogiovanni, Senior Pastor

Your books and website have been and continue to be a great resource for understanding the Scripture. I recommend your site to all our students.
-- Casey Leach, North American Theological Society

Thanks so much for your help. Your books, website, newsletter and emails have had a big impact on me and my sermons!
-- Pastor Dave Lyman